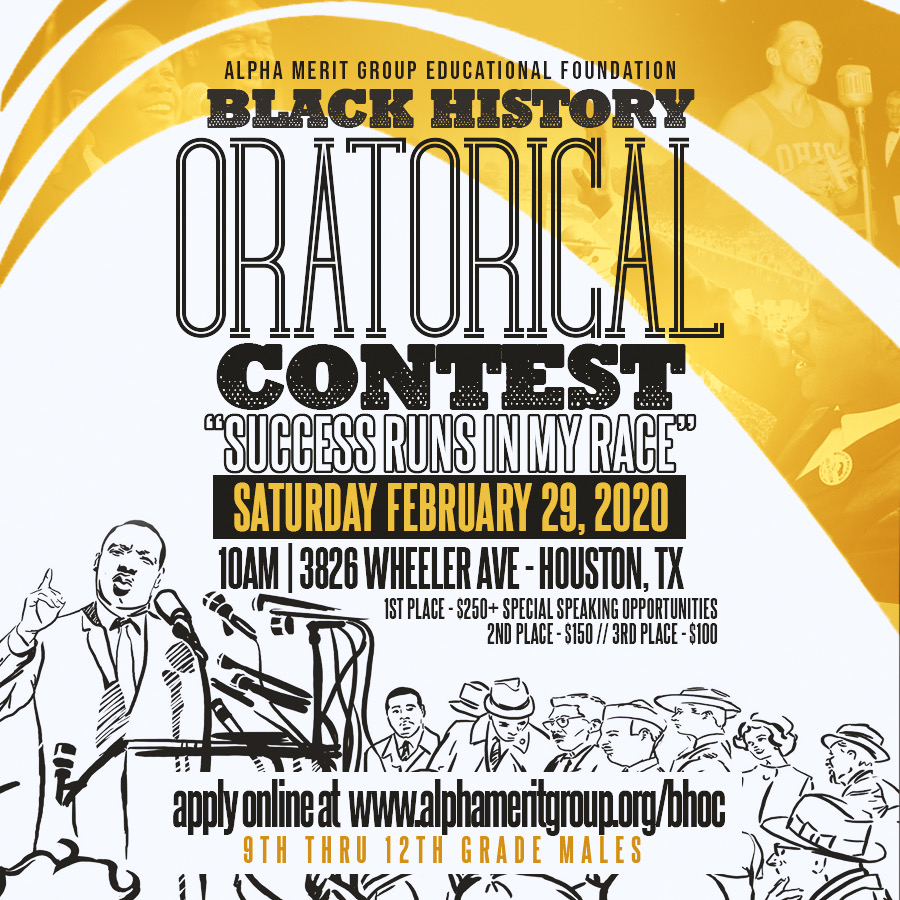 Black History Oratorical Contest
The AMGEF Black History Oratorical Contest is designed to give Houston area high school students an opportunity to shine through public speaking.
ELIGIBILITY
Eligible participants are Houston-area male high school students in grades 9 through 12 as of January 1, 2020.
Students are grouped and compete within two categories: Underclassmen (Grades 9 and 10) and Upperclassmen (Grades 11 and 12).  1st, 2nd, and 3rd place individual winners from each category are selected by a panel of judges and will receive prizes.
ORATION CRITERIA
Students recite original or published speeches, poems, or skits that relate to the theme: "Success Runs in My Race".
The oration will be graded on (1) content, (2) diction, (3) tone, (4) creativity and (5) stage presence.
Each student is allotted 3 to 5 minutes to deliver his speech.
Contestants must compete in business attire.
ABOUT THE TOPIC: "SUCCESS RUNS IN MY RACE"
We will cross multiple finish lines on our way to ultimate success. However, success isn't waiting on you to get running, it runs in your DNA. African Americans have a history of achieving success in the face of great challenges. CEOs, civil rights leaders, inventors, entrepreneurs, athletes, soldiers, entertainers, professionals, faith leaders, and political figures – including a United States President! The list is endless!
As we celebrate Black History Month, we elevate the self-determination and empowerment that "runs" in generations of people of African descent and the success experienced by those determined to maximize their full potential. Thurgood Marshall, WEB Dubois, and Martin Luther King are all great African-American leaders, but success didn't stop with them. Today, we are still running and creating a legacy for future leaders to follow. In this spirit, use your oral presentation to highlight examples of the many success stories of African Americans.
PRIZES
First Place Prize: $250 and a special speaking opportunity
Second Place Prize: $150
Third Place Prize: $100
All 3 winners in both categories will receive a personal coaching session with a speech coach and 3 Toastmasters meetings at no charge.
All interested students must apply using the link below by 11:59 PM on February 21, 2020.
For questions, please contact Jerry Autry at jerry@suitsforsons.org.
Can't find what you are looking for?  Contact us via our "Connect with Us" form by clicking on the link below.