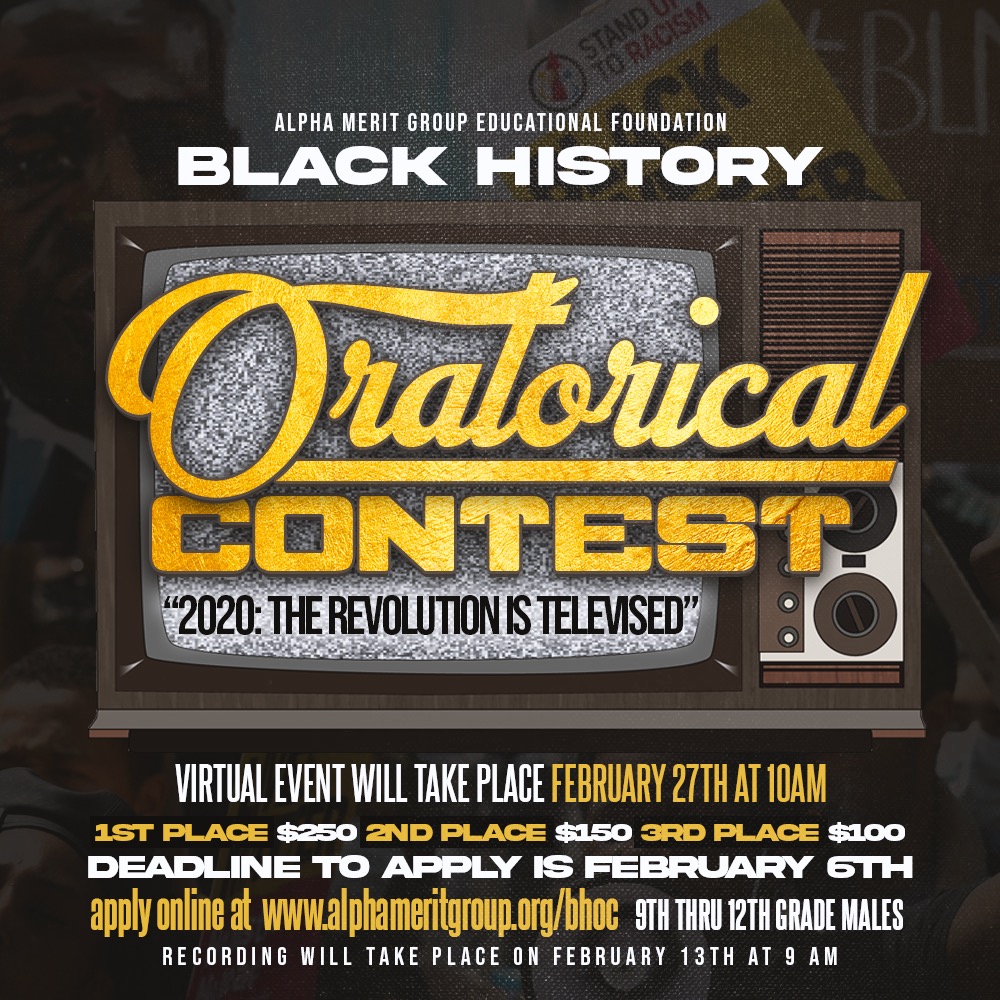 Black History Oratorical Contest
The AMGEF Black History Oratorical Contest is designed to give Houston area high school students an opportunity to shine through public speaking.
ELIGIBILITY
Eligible participants are Houston-area male high school students in grades 9 through 12 as of January 1, 2021.
Students are grouped and compete within two categories: Underclassmen (Grades 9 and 10) and Upperclassmen (Grades 11 and 12).  1st, 2nd, and 3rd place individual winners from each category are selected by a panel of judges and will receive prizes.
ORATION CRITERIA
Students recite original or published speeches, poems, or skits that relate to the theme: "2020: The Revolution Is Televised".
The oration will be graded on (1) content, (2) diction, (3) tone, (4) creativity and (5) stage presence.
Each student is allotted 3 to 5 minutes to deliver his speech.
Contestants must compete in business attire.
ABOUT THE TOPIC: "2020: THE REVOLUTION IS TELEVISED"
A true precursor to "hip-hop" before the term
"hip-hop" was coined in 1979 by Keith "Cowboy" Wiggins, a member of Grandmaster Flash and the Furious Five, "The Revolution Will Not Be Televised" stands as a poignant call to arms for the 1960's Black Power Movement. The spoken-word song, written, composed, and performed by lauded poet and soul musician, Gil Scott-Heron, also known as the "Godfather of Rap" is a fiery analysis of the worsening socio-political conditions of the 1960's juxtapose against the most popular form of consuming mass media in its day, the television.  
Its lyrics either mention or allude to several television series, advertising slogans and icons of entertainment and news coverage that serve as examples of what "the revolution will not" be or do. Studying the true meaning of the lyrics uncovers his sentiments to express that "The first change that takes place is in your mind. You have to change your mind before you change, the way you move." Historically speaking, Scott-Heron's opus is a response, and is equally inspired by the spoken-word piece "When the Revolution Comes" by fellow spoken-word artists, The Last Poets, from their debut, which opens with the line "When the revolution comes some of us will probably catch it on TV".
In contrast to the lyrics of the song, the historical events of 2020 were "televised" on all forms of modern digital media. We experienced it. We watched it. We felt it. We participated while the nation and the world watched, and many new allies joined the revolution! The year 2020 gave amplified volume to an age-old cry for justice, equity and equality. We cannot be silenced.
PRIZES
First Place Prize: $250 and a special speaking opportunity
Second Place Prize: $150
Third Place Prize: $100
All 3 winners in both categories will receive a personal coaching session with a speech coach and 3 Toastmasters meetings at no charge.
All interested students must apply using the link below by 11:59 PM on February 6, 2021.
For questions, please contact Jerry Autry at jerry@suitsforsons.org.
Can't find what you are looking for?  Contact us via our "Connect with Us" form by clicking on the link below.